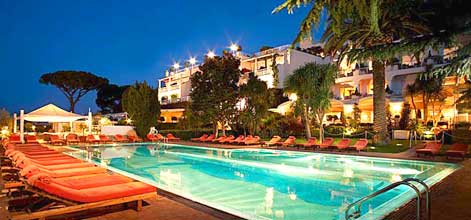 Capri Palace Hotel & Spa Anacapri
Located in Anacapri, the most exclusive part of Italy's island of Capri, the the Capri Palace Hotel & Spa stands 300 meters above sea level, overlooking the open Mediterranean Sea and the Gulf of Naples.
The Hotel has now 80 rooms and suites, among them 7 (between rooms and suites) with their own private gardens and heated swimming pool. The hotel offers 10 luxuriously furnished suites among which one finds the penthouse "Acropolis" bathed in sunlight, boasting a marvelous Jacuzzi tub from where one can gaze at the stars and across the sea. Not to mention the "Megaron" Suite, a spectacular 150-square-meter apartment, featuring hanging garden, private swimming pool, and an enchanting view of the Bay of Naples. Conveniently adjacent to the Capri Palace Hotel, guests can relax at the exceptional "Capri Beauty Farm", one of Europe's most prestigious and modern spas. The the Capri Palace Hotel & Spa has been recently renovated, transformed and promoted to a luxury hotel, with its classical Mediterranean architecture, exquisite Louis XVI style furnishings, majolica and stone paving and soothing ivory textiles. Classified by the International and Italian press as "The hotel of the Stars", the the Capri Palace Hotel & Spa has recently accommodated Hollywood movie stars pop singers and high-fashion stylists. An easy stroll through the narrow streets leads to road to the Blue Grotto and to the many other romantic and secluded of Anacapri, where the sun shines from dawn to sunset.
---
Facilities available to guests:
Hotel owns two splendid yachts, both of them used for individual transfers and tours around the island: one is the modern motor yacht Baia 50, the second is a luxurious 65 foot sailing boat which cruises under the blue sky of the Gulf of Naples.
Guest can also enjoy the amenities of a "Capri Sporting Club", "Capri Beauty Farm" with indoor swimming pool, variety of treatments and gym, billiard room, piano bar, and meeting room.
A car park is available at the hotel.
The Heliport is a moment's drive away, allowing customers to arrive at Naples airport in just ten minutes.
The hotel accepts major credit cards.