Ideal Hotel
Piazza Garibaldi 99
80142 Napoli
Italy -----------------------------------







-----------------------------------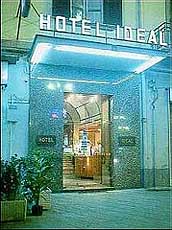 Welcome to the Ideal Hotel, a newly renovated 3-star hotel on the famous Garibaldi Square in Naples. Only 50 meters from the main train station and 1 km from the airport, the Ideal Hotel is a very convenient starting point for your stay in Naples, with 41 comfortable rooms where you'll find a complete set of facilities, including a bath/shower, air-conditioning, telephone, TV, and Internet access.
Additional services available to guests include daily breakfast and the organization of excursions to the most important spots in the city and its surroundings, including Sorrento and Pompei. There are also special discounts available for groups and students with international student cards (on request).

The hotel accepts the following credit cards: Visa, MasterCard, American Express, Diners Club, JCB, Eurocard.