Villa Luisa
Via Tripergola, 50
80072 Lucrino - Pozzuoli (NA)
Italy -----------------------------------







-----------------------------------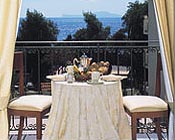 The Villa Luisa Hotel is an oasis of relaxation in front of Pozzuoli Bay, about 15 km from Naples, and in the vicinity of Lake Lucrino and Lake Avernus at the slopes of Monte Nuovo, an extinct volcano. In the midst of this picturesque landscape you'll find modern and comfortable accommodations along with an excellent beauty farm where you can enjoy a wide range of treatments for physical regeneration.
The Villa Luisa features 22 rooms and 4 suites in the hotel section as well as 11 apartments in a Mediterranean-style residence. The hotel rooms and suites feature a private balcony or terrace, most of them with beautiful views of the bay and Capri Island, and a complete set of modern conveniences for your stay. These comforts include air-conditioning, mini-bar, safe deposit box, satellite TV, bath and shower, hairdryer and soundproofing. Guests at the residence will also have a cooking corner, private washing machine and, in most cases, a spacious terrace with a breathtaking view of the bay and Capri Island.
This wonderful view can also be admired from the solarium on the last floor and the terraces adorned with fountains at the hotel. The beauty farm comprises a sauna, Turkish bath, massage room, water massage, thermal baths, burning shower and a complete range of treatments including beauty, slimming, regeneration, anti-wrinkles, and mud therapies.
Other services offered to guests include a tea room, congress room with audiovisual equipment, cinema, private parking, laundry service, bicycle rental, and pizza service.