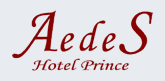 Aedes Hotel Prince
Viale Palestro 66
00185 Rome
Italy -----------------------------------







-----------------------------------




This original hotel is enclosed in a stately building dating from the early 19th century. It is located in the very heart of Rome and offers 30 split-level suites featuring different sleep, work, and leisure areas. All of the suites are air-conditioned and equipped with a direct dial telephone, color TV, mini-bar, and electronic safe deposit box.
There's a car park 50 meters away from the hotel, available to guests at special reduced rates. Some of the services you can benefit from at the Aedes Prince include car rental, laundry services, taxi and limousine service, tour desk, and currency exchange service.
The hotel accepts all major credit cards.