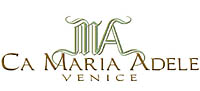 Ca Maria Adele Hotel
Dorsoduro 111
30123 Venice
Italy -----------------------------------







-----------------------------------

Prices
Rooms
Location
Home




The Ca Maria Adele hotel is housed within the walls of an historic 16th Century palazzo, now completely renovated respecting both its environment and history. Facing a canal and with views directly over the magnificent church of Santa Maria della Salute, the Ca Maria Adele hotel enjoys a luxurious location in Venice's most exclusive, charming and tranquil quarters. Just one minute from St. Mark's Square, the hotel is within easy reach either by public or private transport, thanks to the canal leading into the reception lobby.
The Ca Maria Adele hotel is delighted to herald a new concept of hospitality which places the well-being of its guests within a unique environment in the ambiance combining the past and the luxury of the present. The decorative styles of the hotel combine the typical fabrics called "damaschi", with the African wood furnishing's giving an unexpectedly harmonious effect.
The hotel features 14 rooms spread across the four floors of the palazzo. All rooms are equipped with a king size bed, satellite TV, adsl, Wi - Fi Internet connection, mini-bar, safe deposit box, telephone, hair dryer, Jacuzzi or waterfall shower.
Soft drinks from the mini-bar are included in the room rate.
The 5 theme rooms, designed to satisfy the highest demands of our guests and inspired by the history of Venice, create distinctive atmosphere. The Fireside room was inspire by the luminescence of Venetian marble. Elegant and peaceful guest oriental room and Moores room were dedicated to the goods brought to Venice by the powerful merchants who made the crossing from the East. The Doge's room with velvet in Venetian red and Murano Crystal recalls the splendour of 1600's.
Guests will enjoy the lobby with its unique water featured above, in which couches appear to float. The breakfast room is located in the palazzo's main lounge, along with the summer breakfast terrace.

The hotel accepts major credit cards.